Keeping you updated with news about the reform programme
Issue 47 - 3 May 2022

The new online system for divorce went live on 6 April as landmark reforms aimed at reducing conflict between separating couples came into force.
News Headlines
| | | |
| --- | --- | --- |
| |   | Court and tribunal judgments are now freely available from The National Archives through the Find Case Law site, and are available for anyone to use. |
| | | |
| --- | --- | --- |
| |   | The government announced that there will be no cap on Crown Court sitting days for the second financial year in a row. |
| | | |
| --- | --- | --- |
| |   | The government has passed four major justice bills, designed to provide better protection for the public and help restore confidence in the criminal justice system. |
| | | |
| --- | --- | --- |
| |   | Deaf people requiring the use of a sign language interpreter will be allowed to take part in jury service for the first time. |
| | | |
| --- | --- | --- |
| |   | Magistrates are now able to issue prison sentences of up to one year for a single offence, which aims to help reduce outstanding cases in the Crown Court. |
| | | |
| --- | --- | --- |
| |   | We have updated our vulnerability action plan. It sets out the work we're doing to ensure vulnerable court users are not disadvantaged or discriminated against. |
Other News
Update from HMCTS re: damages claims
4th April 2022
Good morning,
I hope this finds you well.
I am getting in touch following communication with HM Courts and Tribunals Service (HMCTS) to raise that from today, Monday 4 April, all damages claims that fall within the scope of Practice Direction 51ZB must be issued online using the damages claims portal on MyHMCTS.
HMCTS launched the civil damages claims service in May 2021. The pilot was supported by a new practice direction (PD 51ZB). From today, users wishing to issue a claim that is covered by PD 51ZB will be required to:
 We have more information about using the damages claims portal on our webpages.
Further resources:

HMCTS will be reviewing the response journey for claims between March and August 2022. If you have feedback you'd like us to raise with HMCTS, do let me know directly or email hmctscourtreform@lawsociety.org.uk
All the best,

Beth
Beth Quinn (She/Her)
Key Account Manager - Member Engagement & Services
The Law Society, 113 Chancery Lane, London WC2A 1PL
Tel: 020 8049 3755 / 07791161328
www.lawsociety.org.uk / @LSLondonandSE
FLBA - VIDEO CONFERENCING/REMOTE HEARINGS
INSTRUCTIONS FOR USE OF VIDEO CONFERENCING PLATFORMS
THE REMOTE ACCESS FAMILY GUIDE - Essential Reading 24/3/20

Mr Justice MacDonald has produced the attached guide, which is essential reading for all family practitioners.
CLICK HERE

E-BUNDLES IN FAMILY LAW CASES - NEW GUIDANCE 23.3.20

Mr James Turner QC has prepared an EBundling Guide to help advocates and others deal with the issue of preparing bundles, a task that we will all have to learn very quickly for the foreseeable future. Guidance is attached. The DFJ has today confirmed that perfect bundles are not expected.
KEYWORKERS IN JUSTICE
The following is understood to be the definition of keyworkers in justice as currently defined by the MoJ.
Advocates (including solicitor-advocates) required to appear before a court or tribunal (remotely or in person), including prosecutors;
Other legal practitioners required to support the administration of justice including duty solicitors (police station and court) and barristers, solicitors, legal executives, paralegals and others who work on imminent or ongoing court or tribunal hearings;
Solicitors acting in connection with the execution of wills; and
Solicitors and barristers advising people living in institutions or deprived of their liberty.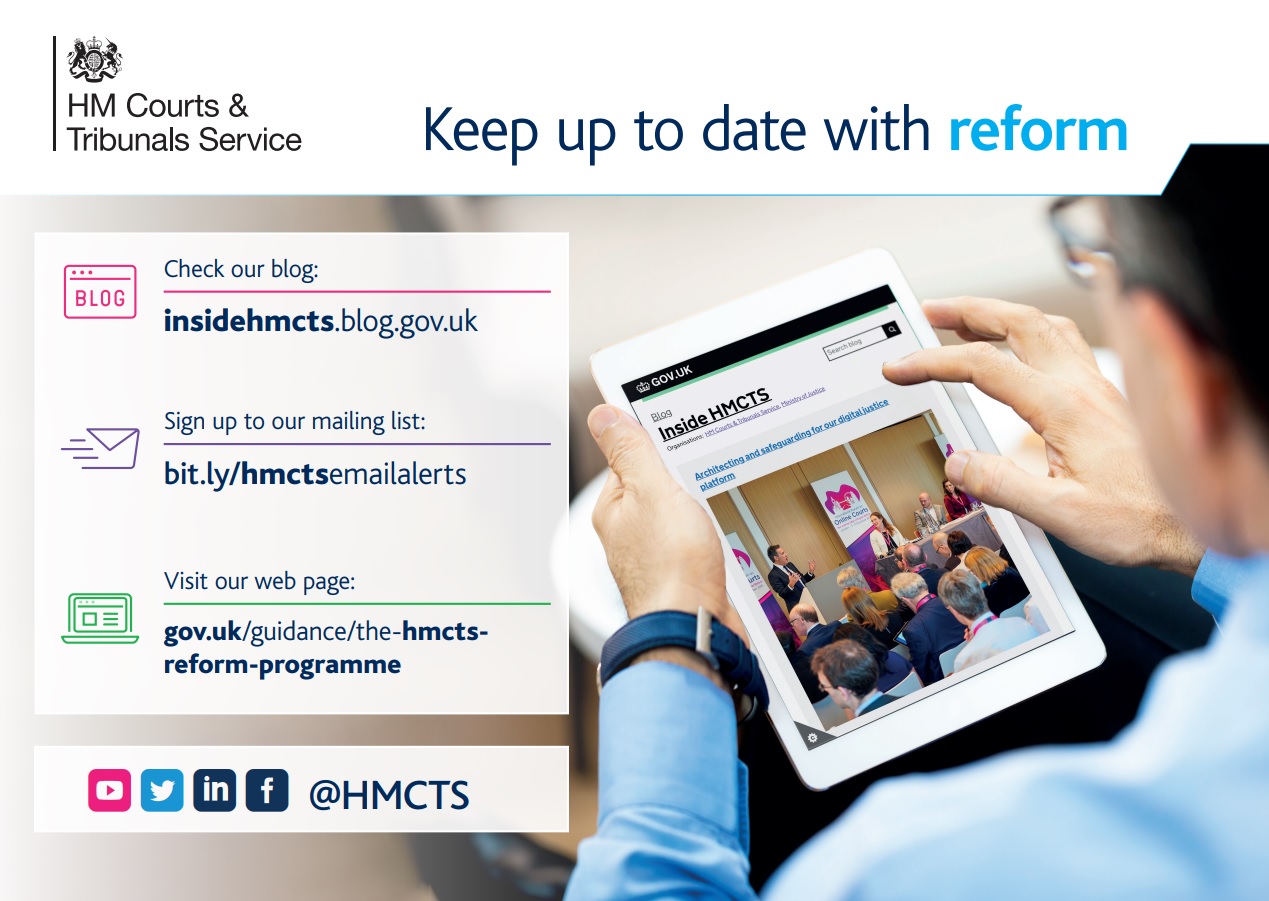 FINANCIAL REMEDIES COURT FOR KENT, SURREY AND SUSSEX
Memo from HHJ Stuart Farquhar of 6th September 2019 (abridged)


I have recently been appointed to be the Lead Judge for the Financial Remedies Court in Kent, Surrey and Sussex above which is now due to commence on 1st November 2019. I would just like to highlight what this will mean in practice and what changes will be seen.
There are not going to be wholesale changes in many aspects but it is hoped and intended that the alterations that are to occur will improve the system. Any feedback on any of the issues that are set out here are certainly welcome as well as any other suggestions as to how the system could be improved.
The following are some of the changes that will be occurring:
All District Judges and Deputy District Judges dealing with FRC work will be ?ticketed? to carry out Financial Remedy work and will sit on an increased amount of this work to ensure there is greater specialisation.
Applications will become digital. Once firms have registered (it is not currently available for Litigants in Person to register) they will be able to lodge Forms A and subsequent documents digitally. The Online Financial Remedy Consent Order Pilot is already up and running (leaflet attached) and I would urge all firms to consider joining the scheme. The contested applications will be using the same platform.
Allocation - there will be a simple allocation questionnaire to complete to indicate the desired Court and whether the case is complex - there will be a number of 'complexity' options to tick as well as 'other' to deal with particularly unusual issues.
The complex cases will be allocated to HHJ Robinson in Kent and myself in Surrey and Sussex. The two of us will also deal with all of the appeals in the three counties.
The FRC will deal with Schedule 1 Applications and those pursuant to Matrimonial and Family Proceedings Act 1984 and related applications. TOLATA and Inheritance Act claims are likely to follow but it is considered that primary legislation is required for this to occur.
Private FDRs and other out of Court settlement mechanisms will be encouraged.
In the meantime, if there are any particular points that any practitioner wishes to raise in terms of difficulties in the system or suggested improvements then please let me know through my clerk.
HHJ Stuart Farquhar
Brighton Family Centre
BRIEFING NOTE FOR FAMILY LAW PRACTITIONERS IN KENT
Following a meeting with Supt. Emma Banks at Kent Police in Canterbury, please note the new system in place from September 2017 for domestic violence and child protection work in Kent.

BRIEFING NOTE

MAP